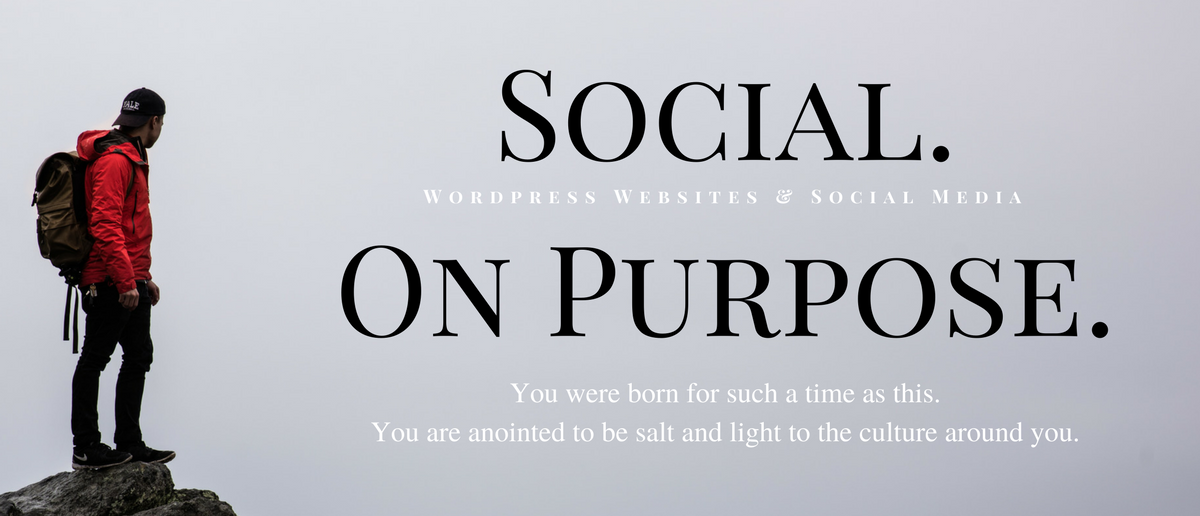 Contact Us Today For Your New Website or Social Media Strategy!
Step #1: Please click on GET STARTED to discuss your project.
Basic
This package does not include graphics, header design, or extra pages.
WordPress Installation at hosting provider.

Theme and Installation – includes theme setup of "free" WP theme.

Setup of desired color scheme, menu system, and sidebar(s).

Insert your logo or header

*Logo & header design not included but services are available.

Install Comment Spam Blocker.

Custom Color-matched Social Icons to match site design.

Setup for Mobile access.

Install Google Sitemap to help Google index your site and improve your rankings.

Teaching video provided on how to make basic changes, enter or update posts.

Includes the main Home page, Basic Contact page, and About Us page.
Intermediate
Includes the Basic Website plus…

Premium themes from Elegant Themes, Thesis, or other themes are available in our Intermediate package at cost of theme from vendor. Customization of these themes is quoted on a per-job basis.


Integrate with your Social Media accounts with bookmark buttons for "Like's" and re-posting

Automate database backups.

Integrate Networked Blogs feature to automatically post links of your articles directly to Facebook or Twitter accounts.

Includes setup of a total of 5 Site Pages and Top Menu, including addition of text and 1 image per page; all content and images provided by client.

I

f you need images, we can find them and provide for you at the cost of image plus 10%, normally around $2.00 per image.
Advanced Integrative
Includes the Basic & Intermediate Website features plus…

Addition of videos (client's owned and supplied content)

Configure Permalinks – set up structure so your site page links are meaningful, keyword-based links.

Google Analytics integration so you can get detailed website traffic analysis.

Formatting of a total of 10 Site Pages or Subpages – includes the addition of text and 1 image per page (content provided by client).

Set up blog categories, monthly archives, and drop-down menus as needed.

Basic SEO Optimization,  metatags & keywords.

Internet Storefront, Shopping Cart, or Contributions Buttons are

not

included but are available at extra cost; fees vary and depend on the site requirements.
Video & Audio Editing
Video project fees vary based on project requirements and amount of raw video footage. Fees below are rough estimates and may vary depending on your requests or special needs:
$20.00 per minute of finished video

/ discounts for longer projects

$40.00 Minimum project fee

$50.00 additional rush fee for 24 hour service when available.

Maximum cut-down of raw footage is 75%, otherwise additional fees may apply. 

Simple Editing only, without selection and cut-down, is $40.00 per hour.

Addition of stock intro music, intro titles, closing title included

Addition of transitions between clips as needed for smooth continuous footage included.

Photo Collage projects are much simpler and can be done by the hour; photos are transferred into a video slideshow format.

Social Media Audits & Strategic Advising
Your dream of greater success and reach is connected to a divine purpose with a strategy. It would be our honor and pleasure to help you "write the vision, make it plain, so that those who read it may carry it to others." Together, we can position and purpose your social media presence to produce consistent, long-term relationships, referrals, and repeat connections. Our approach, assisting our clients in being "social on purpose", provides business and ministries a strategic partner and plan for success in their chosen industry(s) within the seven mountains of cultural influence.
The first step to these results and referrals is an "SOP Social Media Audit". In the initial audit, Michelle will access and evaluate your current internet outlets, cross-over marketing input, website, and social platforms, providing a detailed report of current analytics and engagement observations. Contact us today to schedule a professional audit of your current internet impact and social media presence! This could be your year for exponential growth because… good relationships are the key to good referrals!
Professional Social Media Management
Michelle is known as a Catalyst for Change. From website to social media, this beloved maven can help you to brand your voice and develop better client relationships through a powerful, consistent online presence. Partnering with entrepreneurs, speakers, business professionals, and ministries, she audits, advises, and implements comprehensive internet strategies with the client's unique voice and vision.
Beyond the audit and advising on strategy, our monthly social media management packages include a constant "drip" (regular postings going out onto platforms without your hands-on involvement or time or attention) of pre-filtered post materials, quotes, motivations, and product information; we will also offer suggestions to help you create a culture of engagement that immediately and continually fuels your relationship and revenue growth, beginning with the identified areas of weakness or need. Our services assist in developing an actionable, consistent social media strategy, including implementing specific social media strategy on appropriate platforms. We integrate scheduled quotes and graphic posts, utilizing both fresh spontaneous (via client posting) and evergreen (scheduled and reusable) materials, cross-pollinating use of content throughout selected platforms.
Our services also help clients to establish branded image on all platforms with unique, consistent graphics, colors, hashtags, and tagline, with the goal of broadening exposure to client's selected target markets. If included in the client package fee, we can implement boosted posts (paid posts to reach more viewers) and social media ads and remarketing during peak use time slots for target markets.
So, no matter how well-developed or undiscovered your internet potential is currently, even if you are starting at the beginning with all your social platforms, I am confident that we can improve your growth by increasing your online connections. It would be an honor to partner with you in developing an effective social engagement strategy! Contact us today and let's get your business or ministry connected and active becoming Social On Purpose!
Please let me know if you have questions. I look forward to seeing this new measure of increase manifest for you!
After contracted services are discussed with our team, the button below may be used to select the desired package and submit your payment. Again, please contact us first to discuss the project before sending your payment. Once work has begun on the agreed upon project, service fees are not refundable. Thank you and we look forward to partnering with you on your Kingdom projects!